<!HEADER START>
<!TITLE START>

Safety Tips When Doing DIY Roof Work

<!TITLE END> <!SOCIAL SECTION START>
<!HEADER END>

<!******* 1 TAB NAVIGATION START******>
Back to the top
<!#450IMAGESTART>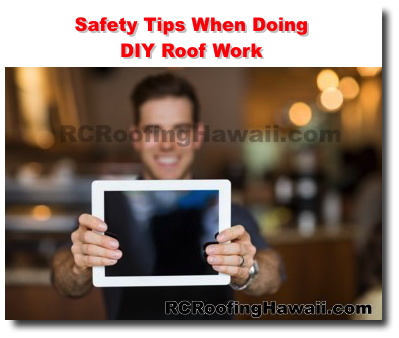 <!#450IMAGEEND>
<!#43START>
Safety Tips When Doing DIY Roof Work

Before attempting any DIY roof work on your home, be sure to read these safety tips to help keep you and your family safe.

1. Don't Work On Your Roof If It Is Wet - To avoid slipping and falling, don't go up to your roof when it is wet. Check your weather report before attempting any DIY work. Avoid extremely hot or cold weather as well as extreme temperatures may prevent your shingles to seal properly.
2. Ladder Safety - When using your ladder, maintain 3 points of contact while climbing (two hands and one foot, or two feet and one hand). Check for slippery materials on the rungs and steps that can cause you to fall and only use a ladder on a stable surface.

3. Avoid Electrical Lines - Mark sure you pay attention to any potentially dangerous hazards in your area, including the location of your power lines. When using a ladder, chose a wooden or fiberglass ladder instead of metal. Don't touch any hot wires with your hands or tools!

4. Check Your Work Area - Be sure your work area is clean and organized and block it off from children or pets to prevent accidents.

5. Check your Footwear - Wear the right shoes for the job. Choose shoe or boots with rubber soles and a good tread when you go up on the roof to avoid slipping.
<!#43END>
<!******* 2 TAB NAVIGATION START******>
Back to the top
<!#70FORMSTART>
<!#70FORMEND>
ref no:29264
<!#999SPACERStart>
<!#999SPACEREnd>
<!#999SPACERStart>
<!#999SPACEREnd>
Please send questions about this website to
webmaster