<!HEADER START>
<!TITLE START>

What To Ask When When Consulting With A Roofing Contractor / Cpmpany

<!TITLE END> <!SOCIAL SECTION START>
<!HEADER END>

<!******* 1 TAB NAVIGATION START******>
Back to the top
<!#450IMAGESTART>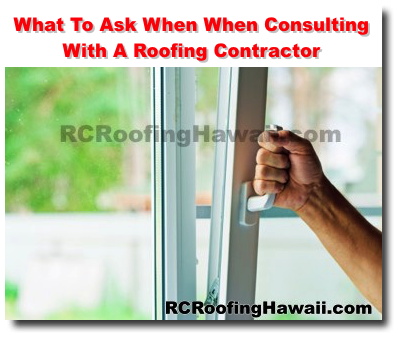 <!#450IMAGEEND>
<!#43START>
What To Ask When When Consulting With A Roofing Contractor
Renovating or replacing your roof is a major undertaking. Finding the right roofing contractor for the job is an important first step. With so many companies out there, which one should you work with? Here are some questions you should ask potential roofing contractors.
"Do you have a license and are you insured?" - The answer you'd like to hear to both questions of course, is "Yes!" If a potential roofer is not insured, you may be held liable for any expenses from injuries that may occur while the workers are on your property. The contractor's license should also be current and in good standing. We at R&C Roofing Contractors are licensed and insured. RME Contractor License #CT-33643 HAAG Certified Inspector ID #20140814
"What is the timeline for the roofing project?" A roofing contractor should be able to present you with a timeline and also explain their policy for any weather-related delays. Don't be afraid to ask the contractor if they are working on any other projects aside from yours which may cause yours delays.
"What are your payment terms?" Ask about the types of payment the roofing contractor can accept as well as deposits.
"Will there be a variance in the price listed on your estimate?" Before proceeding a good roofing contractor should be able to explain some possible scenarios that may result in the project costing more (such as extensive water damage) but don't be afraid to ask anyway. At R&C Roofing Contractors, our mission is to always provide honest and affordable service to all of our customers so our free roof inspection may help you determine the scope of the project before getting started.
"Do you have any references?" Ask about their past (recent) jobs and check it out if possible. Ask fellow homeowners who they have worked with if their work was done on time and within budget.
"Will you help us with permits and insurance claims?" It may not be a good sign if a roofing contractor refuses to help you with obtaining proper permits for your roofing project or work with your insurance company. Here at R&C Roofing Contractors, we also offer roof inspections for insurance purposes, and can assist customers with the insurance claim process.
"What are some of the safety measures you have in place?" A good roofer must have their team and your safety in mind. They should be able to ensure their worker's safety and be trained for it. "
"Any warranties?" Reputable roofers should be able to stand behind their work and offer a warranty. Most roofing materials will also come with product warranties. R&C Roofing Contractors offers the highest grade of roofing materials & roofing systems in Hawaii. Most of which have a LIFETIME WARRANTY. We also stand behind our work 100%, offering a full labor warranty on top of that.
"Will you leave the property in good condition? Make sure your selected roofing contractor will agree to clean up after themselves, including cleaning up all shingles and debris before they leave your property.

If you need assistance or would like to schedule a free roof inspection, call R&C Roofing Contractors today! With over 50 years of combined roofing experience, our team can help inspect and repair your roof and help keep you safe.
<!#43END>
<!******* 2 TAB NAVIGATION START******>
Back to the top
<!#70FORMSTART>
<!#70FORMEND>
ref no:29295
<!#999SPACERStart>
<!#999SPACEREnd>
<!#999SPACERStart>
<!#999SPACEREnd>
Please send questions about this website to
webmaster